Rugby
Hockey
DSC JUNIOR HOCKEY PARENT INFO 2020
2020 Dannevirke Junior Hockey Rules
South School Hockey Notice 2020
Netball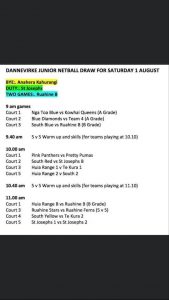 Please note the changes to 5 v 5 this week, including the coaches/helpers course run by Irene van Dyk.
Prior warning that there will be changes to the usual times for A Grade on 8 August as well because Irene Van Dyk will be running a PDP programme for the Y7/8 that day.
Finally, the DNC committee will be selecting Year 7, Year 8 and possibly a Y4/5 invitational teams to play against some teams from other regions on Sunday 23 August.  Please note these are NOT rep teams and will be for the purpose of this day only.
Dannevirke South School Netball Teams 2020


REMINDER –  ALL PLAYERS of ALL GRADES that absolutely NO jewellery is to be worn on court.  The ONLY item allowed to be taped is a medic alert bracelet.  Players must have short fingernails.  It is the responsibility of the umpires to check these things before games commence.
Games for A and B Grade are played as 4 x 10 minute quarters.  Skills sessions for 5 v 5 will be approximately 15 minutes, followed by a game that will be 3 x 10 minute thirds.