2020 Colour Fun Run
2020 EPro8 Challenge
Celebration of fantastic student work during Lockdown
Hunter's family ANZAC tribute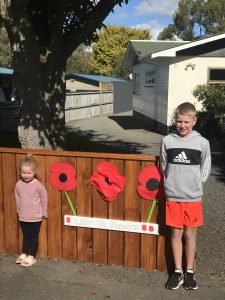 Blende wrote this poem about his Great Grandad, well done.
"That was my Great Grandad"
2020 Agri Kids
2019 Pet Day
2019 Kapa Haka Festival
Our junior and senior Kapa Haka groups performed at the 2019 Tamaki Nui A Rua Kapa Haka Festival recently.  Congratulations to both groups who had put a lot of time and effort into practising.
The Senior Kapa Haka team were awarded the following trophies, ka pai.
1st Haka
1st Waiata a Ringa (action song)
1st Te Reo (pronunciation of the kupu)
1st Male leader
1st Female leader
3rd Kakahu (uniforms)
Below are links to the videos of their performances.
Junior Kapa Haka Performance 1
Junior Kapa Haka Performance 2
Junior Kapa Haka Performance 3
Junior Kapa Haka Performance 4
Junior Kapa Haka Performance 5
2019 Rugby Prize giving
Congratulations to Anson and Isaiah who were presented with medals for great sportsmanship, work ethic and dedication. Well done boys, we are very proud of you both. 
The Dannevirke Typhoons were presented with a shield which recognised their perseverance and enjoyment in rugby.  Although they never managed to win a game, they showed up every week with a smile on their face and did their best in every game.  The effort from this team shows all the South School values. Ka pai.
The South TKK Midgets received trophies for winning their grade and also winning the 7's competition.  Congratulations
Robotics
Declan, Jaxon and Miller from Room 3 had an interest in robots.  They began by making a robot out of old appliance parts.  Next they worked independently to make a Vex IQ robot that went forwards and backwards.  Then they added the claws so that they could pick up a ball and store it at the back of the robot.  Here is a video of what they have achieved.
The boys now want to work with a Lego Mindstorms EV3 which they will start to program using a chromebook.
Well done boys.
Update 9/9/2019
The boys have been learning how to programme the Lego Mindstorms EV3.  Here is the latest video of the task that they have completed.
https://drive.google.com/file/d/19v8y9icMSSK4oA6jx2JFCN_PLxqS0caJ/view?usp=sharing
South Blue Netball Team
Congratulations to our South Blue netball, team winners of the A grade competition, winning 21-19 to Huia Hawke's.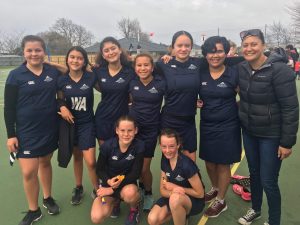 Congratulations also to South Silver who got runner up in C grade.
2019 Mathex Competition in Palmerston North
On Friday 9 August 2019 3 teams of 4 travelled to Palmerston North to compete in the Manawatu Mathex Competition.  The teams had 20 minutes to solve 5 practical maths problems and then 15 minutes to solve as many quick fire questions as they could.
Well done to the teams:
Year 6 – 7th equal (Ewan, Isaiah, Dimitri and Alvin)
Year 7 – 4th equal (Bayly, Caitlin, Dani and Greer)
Year 8 – 24th equal (Charlotte, Riana, Grace and Bryan)
A big thank you to the parents who transported the teams to and from the event.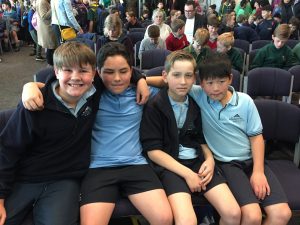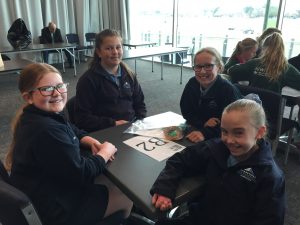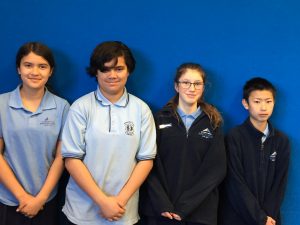 2019 Inter School Maths Competition
On Thursday 8 August we had 4 teams representing South School at the Inter School Maths Competition at Ruahine School  The teams had 25 minutes to solve as many quick fire questions as they could.
Congratulations to the following teams:
Year 5 & 6 1st Place – Year 6 team – Ewan, Dimitri and Alvin
Year 7 & 8 3rd Place – Year 7 team – Bayly, Caitlin and Dani
South Mini Yellow Hockey
"We love hockey because you get to make new friends and work together to get goals. We needed to work on our stopping and passing and our marking up, which is defending. Our team is cool and it's all about having fun. When we won our trophy we felt really happy and excited". – Ali and Kade from South Mini Yellow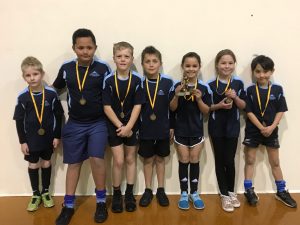 Coding of drones and Riparian Planting – Te Puawai 2 July 2019
On 2 July 2019 we had 3 instructors from the PTC Trust (Partnership Through Collaboration) work with our Year 7 and 8 students.  They began with learning how to code to make a drone fly, then did a practical activity trying to fly the drone through an obstacle course.  After morning tea, they headed out to the Barrow farm and learned about riparian planting.  In groups they planted a swamp area and were then shown what this would look like in about 6 years time.
PTC is a registered Trust with a vision to create a distinctive platform that twins the pursuits of science and technology with the awareness of culture, language and the value of indigenous people.
Te Tipu Whanau Celebration 2 July 2019
Bullying by Room 7
Cross Country Year 4-8 11 June 2019